Dozer earns his championship April 2013.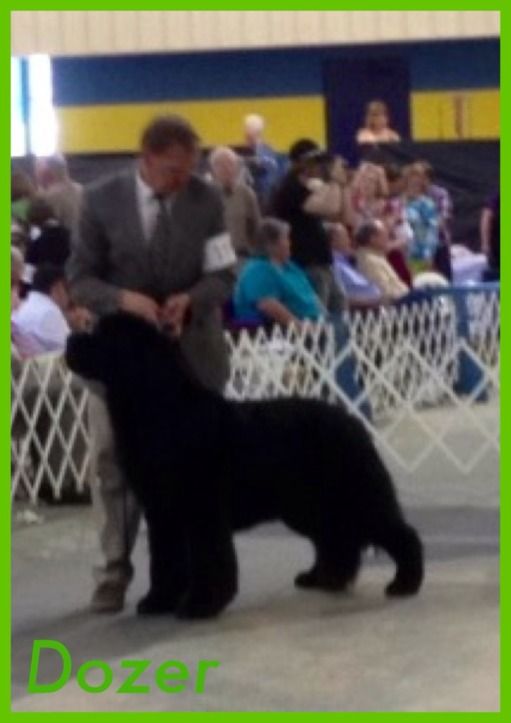 Reba earns her Grand Championship in September 2012.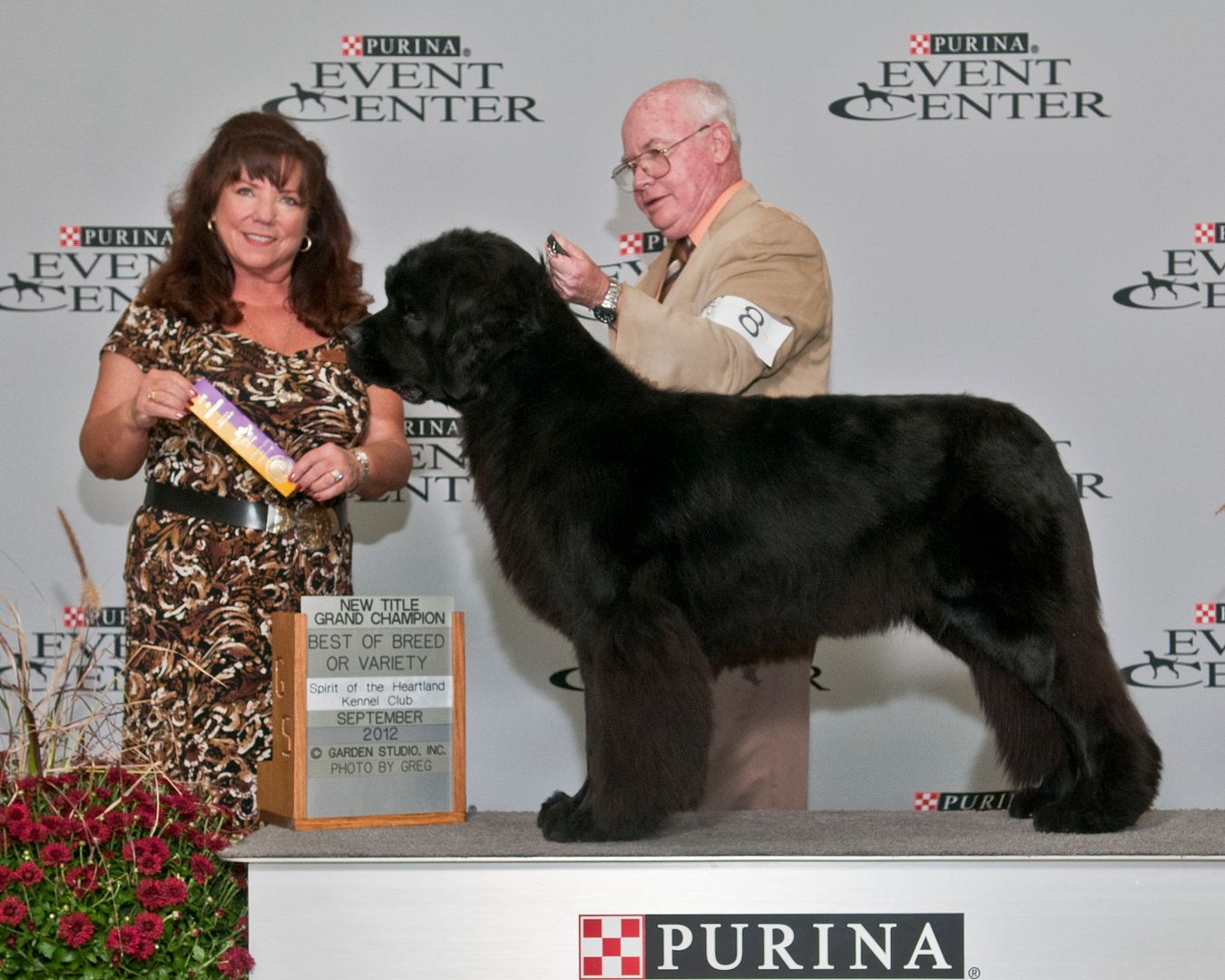 Eli finishes his championship in August 2012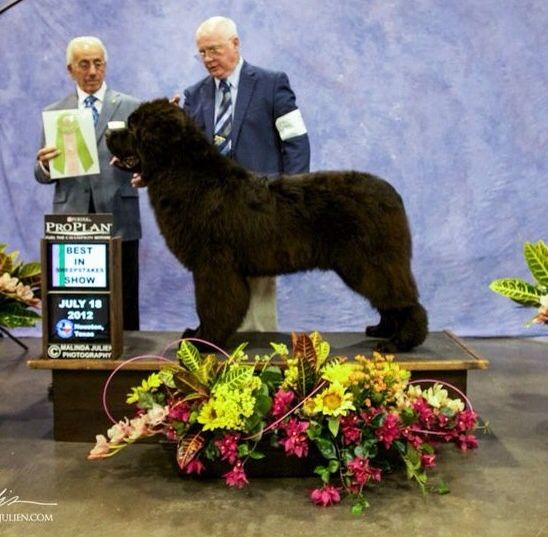 Frank finishes his championship in May, 2012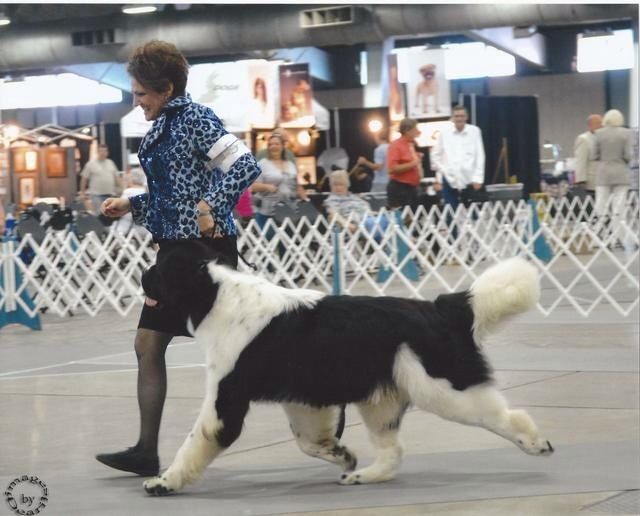 Jack and Meggie
Wilbon's Drogba- Drogba, a KatiexBleau daughter becomes a Mexican Champion- March, 2012.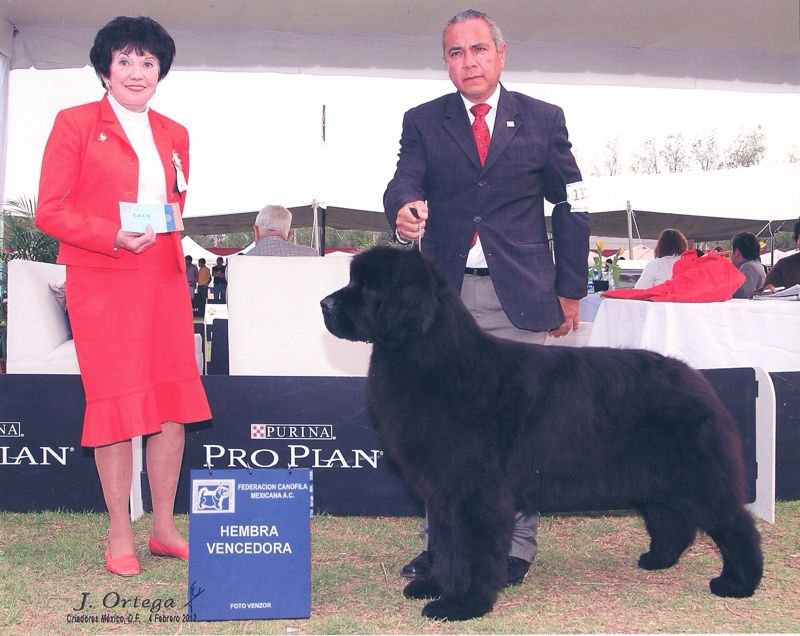 Drogba strutting her stuff in the ring.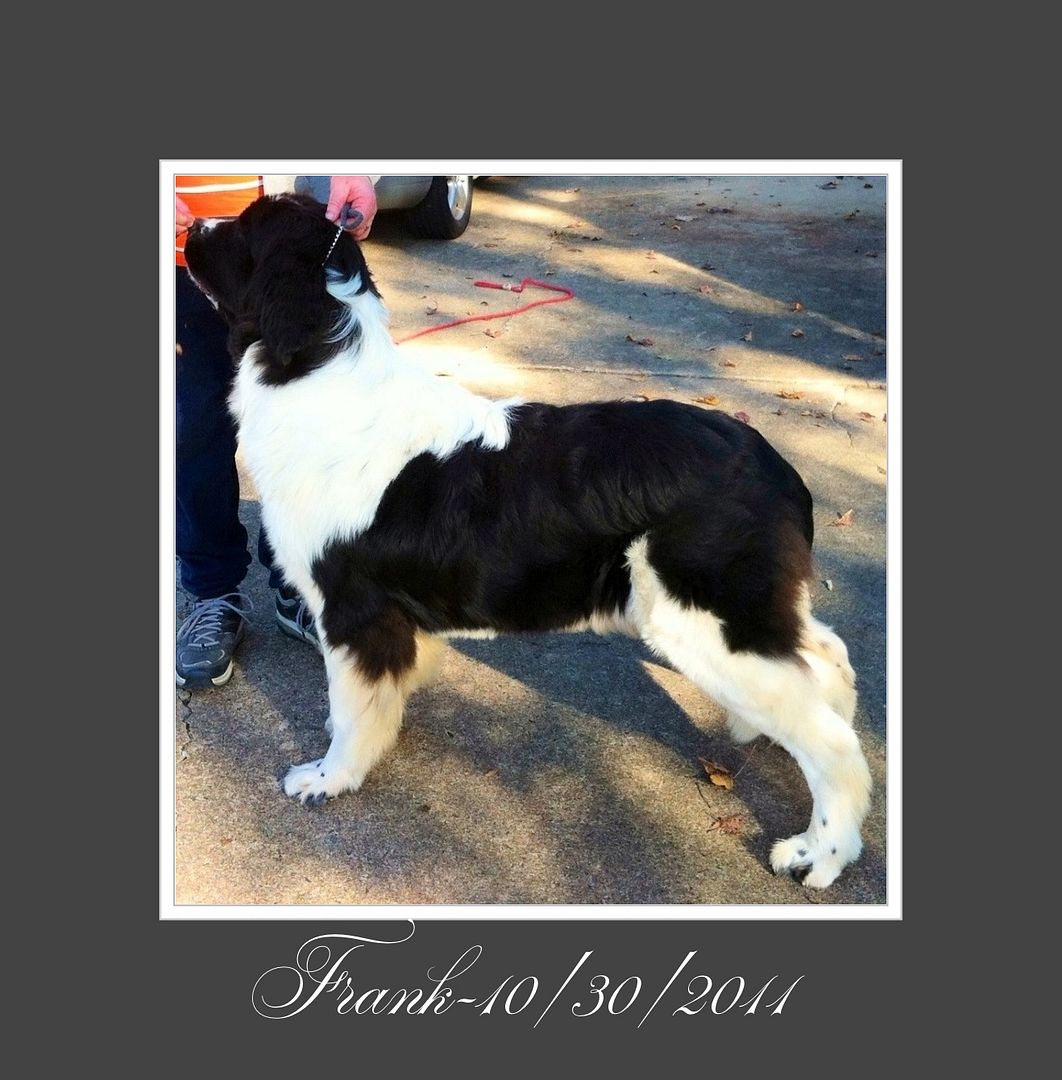 Frank at 8 months
Frank-9/11/2011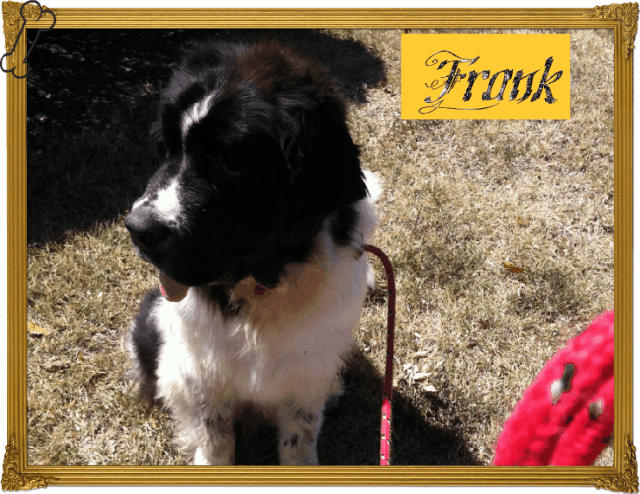 Reba at 10 weeks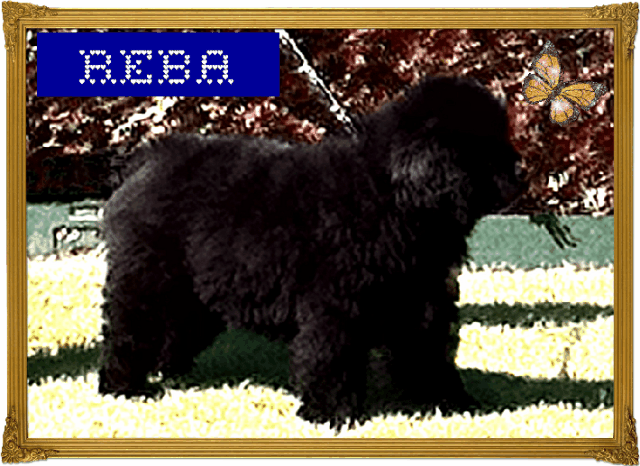 Stella and Judy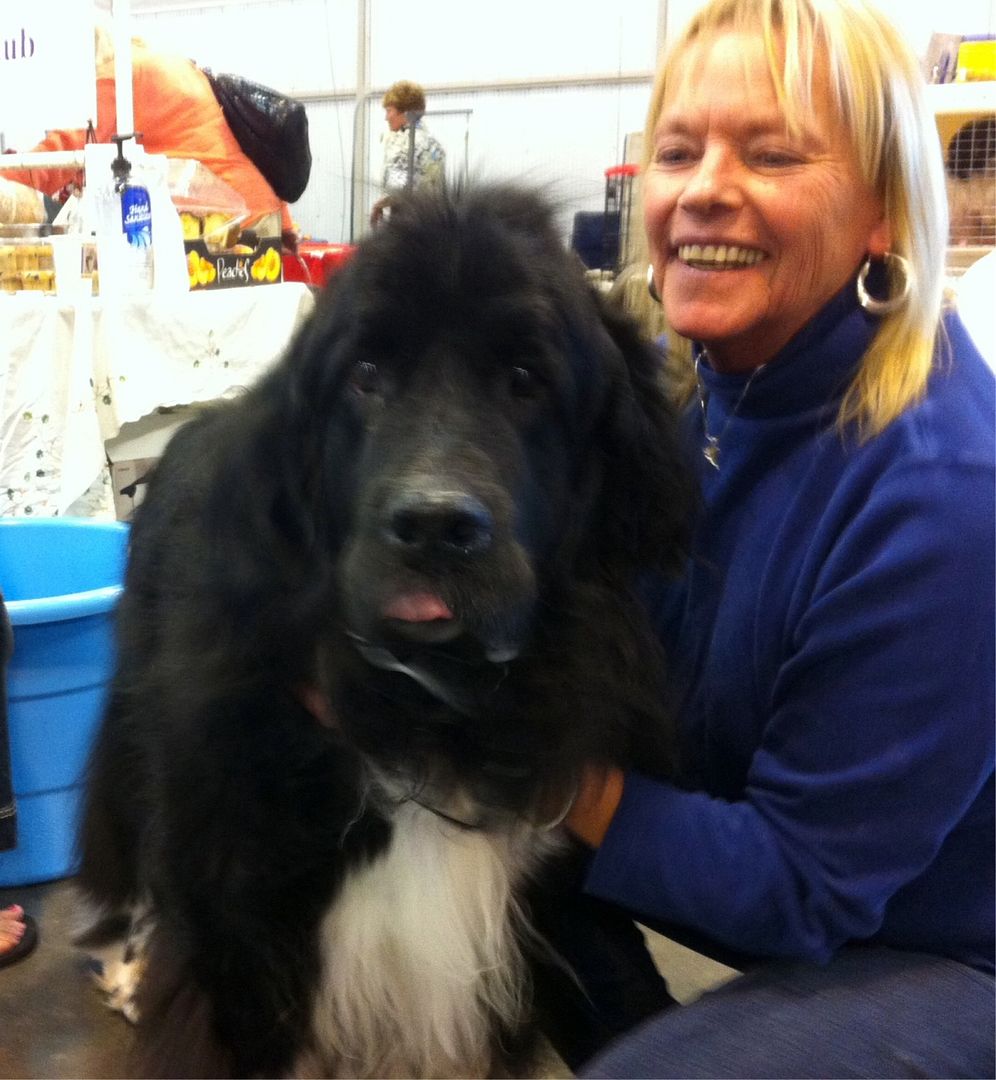 We met Stella and Judy at the Regional Specialty in Greeley, CO on 9/9/11. Stella is a 10 year old Ace daughter.
Reba & Bill
Getting ready to make the trip to her new home.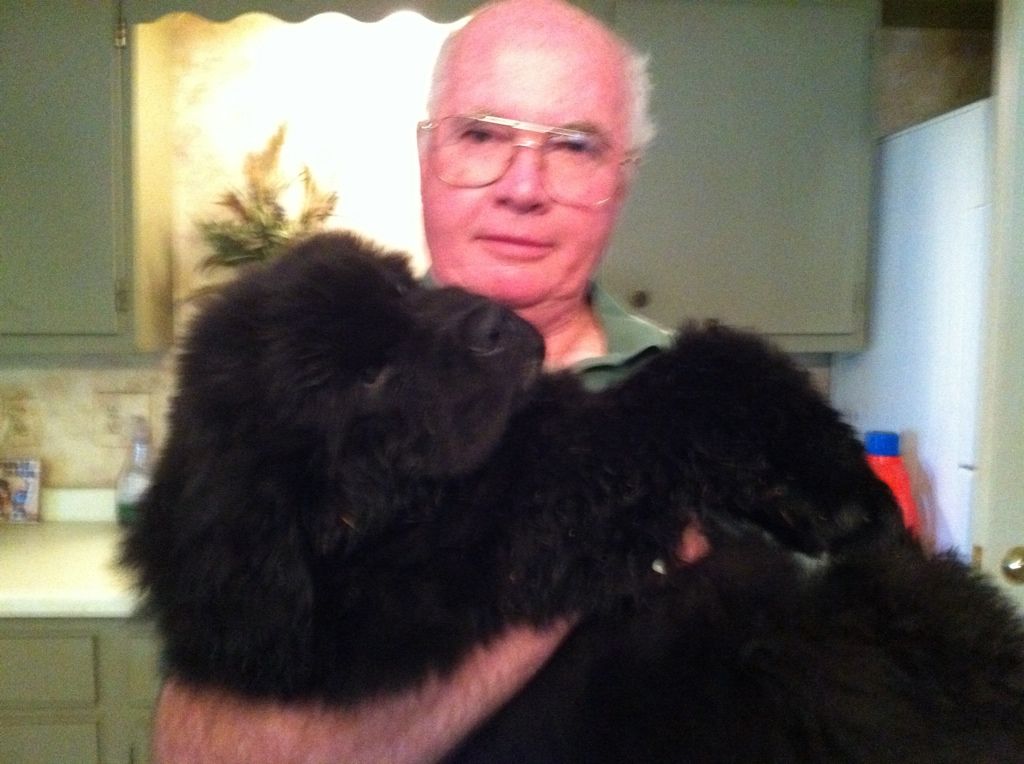 Congratulation's to Katie & Louie. We are so proud of them. Below is an excerpt taken from Charity's Blog. Way to go!
New AKC Therapy Dog Titles: THD
Hooray Katie and Louie just received a new title from the American Kennel Club. It's THD which stands for Therapy Dog. To qualify for the title dogs must be certified by an AKC recognized therapy dog organization (TDI - Therapy Dogs International in our case), they must be AKC registered or listed and they must have completed 50 verified therapy visits. Our Newfoundlands automatically qualified because they already met all of those criteria.

Katie and I went to our favorite nursing home tonight. I always dress her up when we go there because the elderly people get a huge kick out of seeing her with ribbons in her hair. We had not visited in a while because of the heat, so Katie was super excited to see a bunch of her human friends again.
Now Katie and Louie's official names and titles are...

Wilbon's What a Wonderful World RE THD TDIA CGC
& Wilbon's Katie Scarlett O'Hara RA THD TDIA CGC

Charity, Katie &Louie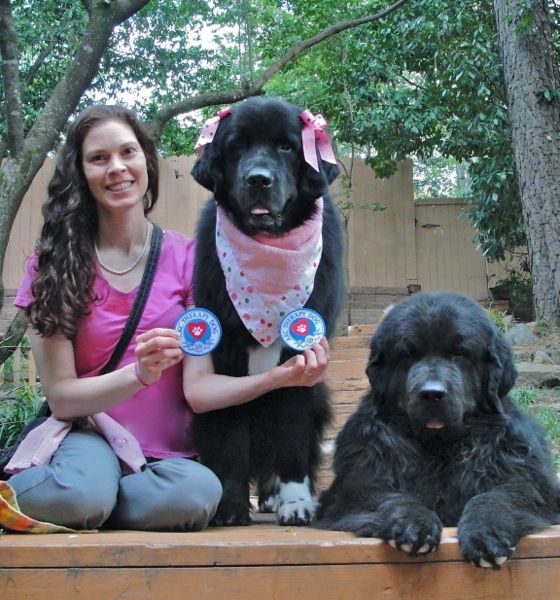 Louie
Frank at 6 months
Got Tongue?
Wilbon's Catch Me If You Can
"Frank"
At 4 months
Frank Goes To The Dog Show
Meggie
Meggie towing the raft at 5 1/2 months.
Totally awesome !!!!!
Mollie
Friends
Mollie doing her bored look !
Jerry & Friend
Jerry the Lifeguard
Jerry's Centerfold picture
Rigsby
Rigsby
Katie and Louie come to visit when they have no power at their house.
Oberon
Dragba
Below is a video of Bleau taken by Charity at the Hot Springs Kennel Club Show. Bleau was being a real ham last and thoroughly enjoyed himself.
Katie completes her Rally Advanced title and Louie completes two legs at the Hot Springs Kennel Club Show. We are really proud.
Bleau has three Group placements in three week-ends as a new champion !!!!
Pictured below is a Group II at Shelby County Kennel Club in Southhaven Ms on 7/11/09
Bleau - CH Magnolia's Bleau Bayou
Group II - Greater Shelby County Kennel Club 7/11/09
7/28/09
Louie - Wilbon's What A Wonderful World gets ready for the Conformation Match coming up in a few weeks. Today he got a trim and posed for these pictures with Bill after his grooming. Gary and Louie have been practicing for the upcoming match.
Wilbon's What A Wonderful World
Louie
Blossom and her friend Nicole
The Lifeguard
Blossom and her friend Nicole
Remy goes to his new home. His owners Maija and Jason Ing drove all the way from California to get their ball of fur. Below is a video and pictures taken by Charity & Gary .
Charity & Paladin
Remy's Grandsire
Below is a video of Bubba, Jake & Elwood.
Bubba is now 9 weeks old and Jake and Elwood are 15 weeks.
Jake swimming
Jake's Story
On May 29, 2009 Jake and his brother Elwood were playing and after hearing a short yelp we all ran to find Jake on his side with his left hind leg hanging limp. In a few hours we noticed that his left front was affected also. The vet x-rayed and checked him out thoroughly and also another vet on the other side of town. Nothing showed up on the x-rays. Jake exhibited absolutely no pain whatsoever, but simply could not get up. All the vets could think of is that he had torn a nerve ending or had a severe soft tissue injury. After some shots for pain Jake was sent home.
For nine days Jake made attempts to stand up, but could not. He and his brother Elwood were in an ex-pen and a friend was petting and talking to Elwood and suddenly Jake stood up and took a few steps before collapsing. From then on he steadily progressed and is now walking and running and getting stronger everyday. He swims daily.
Now one month after his injury Jake is improving every day. He has been to three different vets and a physical therapist. He has been X-ray from head to toe and no probems have shown up. Everyone thinks that he has a soft tissue injury. Outlook for him is good. It will be a very long time recovering, but should recover. The biggest problem now seems to be strengthening his left side. The physical theropist gave us some simple exersizes and he does them regularly and swims most everyday.
See Jake doing his water therapy below.
Below is a slide show of Jake and Elwood - 12 weeks and Bubba & Remy - 6 weeks. All the boys took a trip to the vet to get checked out. Getting all four to the vet and back was a real production. There are also shots taken 6/11/09 of both Jake and Elwood and Bubba and Remy. Dr. Kaufman could not get over how big Remy and Bubba had gotten since she delivered them by C-section.
See the Robin and Bleau babies video taken 5/7/2009.
Below is a video of Robin and Bleau's pups at 11 days.
The Bleaus brothers- Jake and Elwood are seven weeks old now. Yesterday we made a trip to the vet to get checked out. Dr. Durham poked us and prodded us and listened to our hearts. She said we both are healthy little pups. Everybody at the clinic ooed and ahhed over us and said they couldn't believe how much we have grown since we were born.
Click On The Two Videos Below To See Us At 7 Weeks
Click on the picture below to see a video of the Bleaus Brothers - Jake (Red) and Elwood (Blue). The boys are out of Raven and Bleau and are now 4 weeks old.
Below is a video of our first Draft Class with Newfs, Cowboy & Katie and Schipperke friend, Flash.
Below are two videos of our second Draft Class 3/1/2009 with Cowboy & Katie and their friend Flash, the Schipperke.
Below is a video of our third Draft Class - 3/15/2009. Cowboy, Katie and Flash are really doing great. We had a fun afternoon.
Below is a video of our fourth Draft Class. Bucca who belongs to Ellen & Chuck Crane joined us. We had a great afternoon.
A collage of Cowboy, Katie and Flash
Collage of Cowboy, Katie & Flash
We are really proud of Hank and his accomplishments. Hank is lovingly owned by Chis and Kris Echols. Way to go Hank !!!!
CH Amarna's Honky Tonkin' At Wilbon
HANK
A Letter From Hank
Diva & Jack pups at 8 weeks.
Below is a video of the pups at 7 weeks.
Wilbon's Man Of Constnat Sorrow
Everett